MARCH 31 - DUCK SEASON OPENING PARTY
Join us for the opening of Duck Season!!! We will be opening
at 11 am and DJ Batman will rock the dock from 5-8 pm!
We look forward to seeing all of our friends back on the dock!!!
April 1 - Dr. Harmonica 3PM
April 7 - Batman 5PM
April 8 - Monkey Paw 3PM
April 14 - Batman 5PM
April 15 - Johnny Bling 3PM
April 21 - Batman 3PM
April 22 - Tranzfusion 4PM
April 23 - Tommy Edward 3PM
April 28 - Batman 5PM
April 29 - Over Time 4PM
April 30 - Tommy Edward 3PM
Welcome
to m.r. ducks!
M.R. Ducks Bar and Grille in downtown Ocean City, Maryland is located on 311 Talbot Street and the bay. Just a few blocks from the crowds of the beach and boardwalk, you will find the unique charm of M.R. Ducks Bar and Grille. The gazebo style bar is built over the water to help keep you cool on those hot summer days.

We are open the first good weather weekend in April and close the last week of October. We have live entertainment in the summer and check out our UPCOMING EVENTS. Never a cover charge, M.R. Ducks is the place where the locals and summer vacationers flock to see the best entertainment and the most amazing sunsets in Ocean City. Come get happy with us Monday through Thursday from 3pm - 6pm and enjoy our happy hour discounted food and drink specials.

M.R. Ducks Grille features our C. M. Wangs, our take on the chicken wing with 10 great flavors to choose from. The Grille also serves handmade burgers and fresh fish sandwiches along with your favorite bar food. Visit us on your next vacation in Ocean City. Come by boat and use our free dockage; Come by car and benefit from our free valet;
Come by bike and use our free bike rack, or come by
foot and always find a cold drink waiting for you.

Thank you,
The Staff at M.R. Ducks
*Open everyday at 11:00am!
(Closing time varies. Call for off-season hours)
happening now
@ m.r. ducks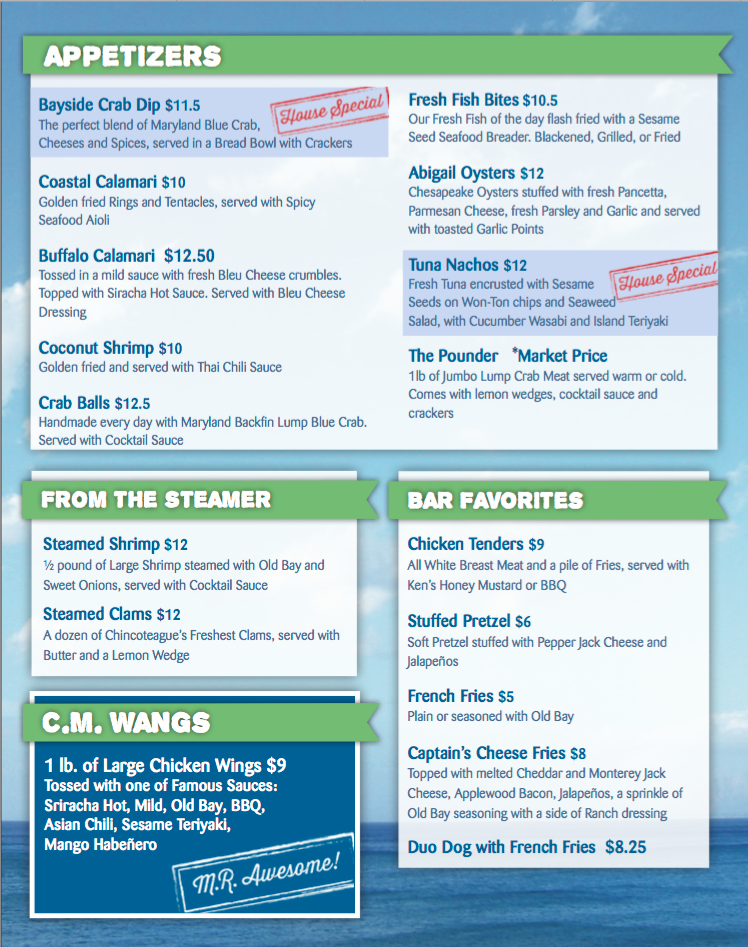 MARCH 31 - DUCK SEASON OPENING PARTY
JOIN US FOR THE OPENING OF DUCK SEASON!!! WE WILL BE OPENING AT 11 AM AND DJ BATMAN WILL ROCK THE DOCK FROM 5-8 PM!
April 1 - Dr. Harmonica 3PM
April 7 - Batman 5PM
April 8 - Monkey Paw 3PM
April 14 - Batman 5PM
April 15 - Johnny Bling 3PM
April 21 - Batman 3PM
April 22 - Tranzfusion 4PM
April 23 - Tommy Edward 3PM
April 28 - Batman 5PM
April 29 - Over Time 4PM
April 30 - Tommy Edward 3PM
​